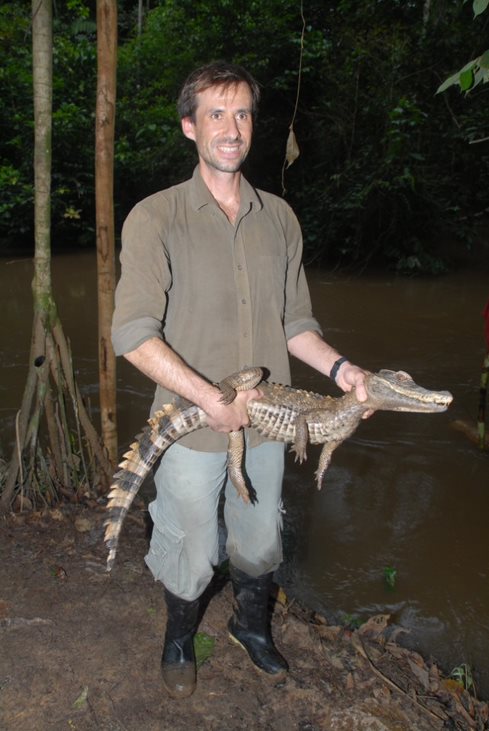 Assistant Professor Rudolph von May holding a Peruvian Amazon Alligator
Class of 2021 Biology alumnus Alisa Lopez said one of the best parts about the upper division independent research course she took from Assistant Professor of Biology Rudolf von May, Ph.D., was the fact that he had actually traveled to the Peruvian Amazon for weeks at a time to do research.
"Personally, I find it really admirable and important because he has actually gone out and done field research, which is what I want to do," Lopez said.

Lopez said it was fascinating to connect with scientists in Peru who were doing inventories of plant, animal, reptile and human life in the Peruvian Amazon in order to justify why various parts of the basin needed to be protected.

"My main interest is conservation biology," Lopez said. "I would love to work as a wildlife or field biologist."
The research class Lopez found so valuable was rich in content, thanks to von May's participation with an international team of scientists who traveled to the farthest reaches of the Amazon as part of an international multi-year, multi-disciplinary research project aimed at providing evidence for protecting more areas of the Amazon.   
"Most of the areas rich in biodiversity are part of the ancestral territories of Amazonian indigenous people," von May said. "The formal protection of these areas helps conserve the biodiversity and the traditional ways of life of local communities."
Von May is a herpetologist, so he concentrated on snakes, other reptiles, and amphibians. Von May and fellow herpetologist Jonh Jairo Mueses-Cisneros of Colombia spent many days walking side by side along the floor of the Amazon forest, their headlamps and flashlights sweeping back and forth.
"We would scan every possible tree trunk and plants," von May said. "When we would find something moving or the eyes would shine, we would catch it, take a quick look, and put it in a bag."  
Then, the scientists would take the specimens back to camp to study them.
Von May and some of his colleagues recently published a report in "Science Advances," the open access journal of the American Association for the Advancement of Science. Von May wants as many people as possible to be aware of the endangered plants, animals, and indigenous ways of life in the Amazon so he does all he can to get the word out with his students, the scientific community and the general public.
 "Peru is a developing country and faces many challenges," von May said. "While the government is interested in attracting investors, it must remain committed to protecting the Amazon and the rights of indigenous people."  
 Since the team presented the research to local policymakers nine of the 14 landscapes —about 5.7 million hectares (an area larger than the Central Valley of California) — have been designated as protected areas.  
From 2000 to 2016, scientists from around the world conducted what's known as a "rapid inventory" — a fast survey of remote areas — in 14 different regions covering more than nine million hectares (one hectare contains about 2.5 acres). This process involved a team of biologists who studied plant and animal species, while a team of social scientists researched indigenous communities.   
The rapid inventories involved hundreds of scientists and indigenous partners from different ethnic groups. Von May himself hails from Peru, which is home to about 13% of the Amazon rainforest. Von May conducted field study in 2009 and 2010 and has stayed in contact with his colleagues ever since to collaborate on research.
The research team concentrated on Loreto, the largest state in Peru. Loreto has few roads, so researchers traveled by boat and helicopter, then set up camp for three weeks at each location to conduct each inventory.
Field Museum of Chicago ecologist Nigel Pitman, Ph.D., who was lead scientist on the project, wrote a blog for the New York Times about the Amazon experience in 2010, including one piece about what it was like to follow von May and his fellow herpetologist through the jungle one night after the moon rose over the trees.  
"As they work, the beams of their headlamps go sweeping restlessly through the forest," Pitman wrote. "They go on working through the leaf litter with their snake hooks, turning over rotting logs, searching around the bases of buttressed trees, and wading off the trail now and then to investigate some intriguing eye shine." 
The project was funded by a number of organizations and donors and was coordinated through the Field Museum of Natural History in Chicago, Illinois.